Element ELE8087 Single Coax HDMI® Extender with Bi-Directional IR (400ft)
SWSW8087
We currently have 8 in stock.
Details
Element Hz Single Coax HDMI® Extender with Bi-Directional IR (400ft)

Remember the countless number of installs where you wished you could magically turn that existing piece of coax into an HDMI Cable? Now imagine surpassing standard HDMI capabilities and having the power to transmit 1080p HD signals and IR Control with no EMI, RFI or ESD interference. With the Element Hz ELE8087 you can achieve just that! This innovative piece of technology allows you to watch your Living Rooms Cable or Dish box from another room. And, did we mention that this is all possible using a single piece of coax?!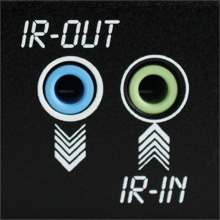 Bi-Directional IR 
Just because our ELE8087 is capable of transmitting an HD picture 400ft, it doesnt mean you have to travel that far to control your sources. Our New HDMI Single Coax extender keeps you in the comfort zone, providing IR pass-through. This feature gives you the ability to control Blueray players, cable boxes, and other sources right from the TV location. ***Please note that the IR functions of this product are not compatible with ATT U-Verse, some HD cable products, as well as DirecTV HD products.*** 

I got 99 problems, but a retrofit aint one! 
One of the most spectacular parts about this Extender is that you dont have to run a new wire just to install this product. The ELE8087 gives you the ability to simply snag your existing coax cable from your current setup and use it to transmit both your HD & IR signals simultaneously up to 400 feet at full 1080p 60Hz resolution. Dont you just love technology?! 


 Lock it down! 
Ever been called out on a service call only to find out that one of your components simply came unplugged? Well rest easy knowing this product wont be the culprit. Our Element Hz Extenders come equipped with screw lock power packs which ensure a secure connection every time. 

The Skywalker Touch 
Our ELE8087 is jam packed with enough goodies to satisfy even the most particular technical gurus! EDID learning, HDCP compliance, BI-Directional IR, and much more.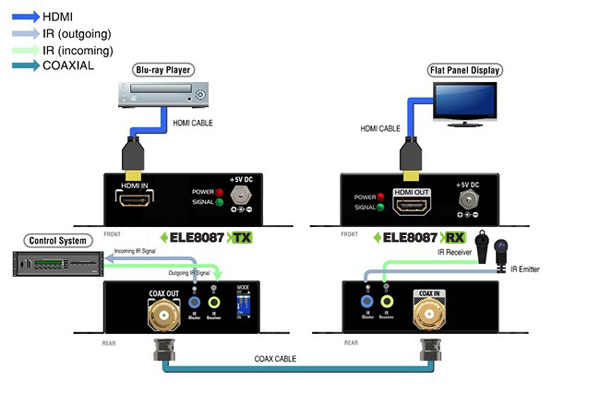 HDMI Extender on Steroids 
If youve used HDMI extenders over unshielded twisted pair before, you probably already know that theyre more susceptible to interference from microwaves, fans, and certain types of lights. These devises all emit RF noise and unfortunately standard category cable just cant protect you from it. But you know what can? Coax! Thats right; standard coaxial cable is fully shielded with a metal braid and foil, so its extremely resistant to EMI, RFI, & ESD. (Electromagnetic Interference, Radio Frequency Interference & Electrostatic Discharge) Best of all, coax cable is low priced, transmits rock solid signals at great distances, and is so common in homes that youre very likely to find pre-existing runs to almost every room. So keep in mind that Coax is your new solution for extending HDMI signals!

Package Includes:
(1) Transmitter
(1) Receiver
(2) 5VDC in-line power adapters
(1) Manual
(4) Mounting screws
(1) IR Blaster
(!) IR Receiver
Features:
HDCP compliant

Single coaxial cable

7.1-channel audio supported

Extends the transmission range up to 120m (394ft) from the HDMI sources

under Full HD resolution (1080p60 24-bit color depth) through Belden 1694A

coaxial cable.

Video resolutions support 480i, 576i, 720p, 1080i, and 1080p

Bi-directional IR path

Wall mounting housing design for easy and robust installation